Gloucestershire airfield is located at Staverton village, between Cheltenham - Gloucester, NW of junction M5-A40. Gloucester is pronounced and sometimes abbreviated to Gloster.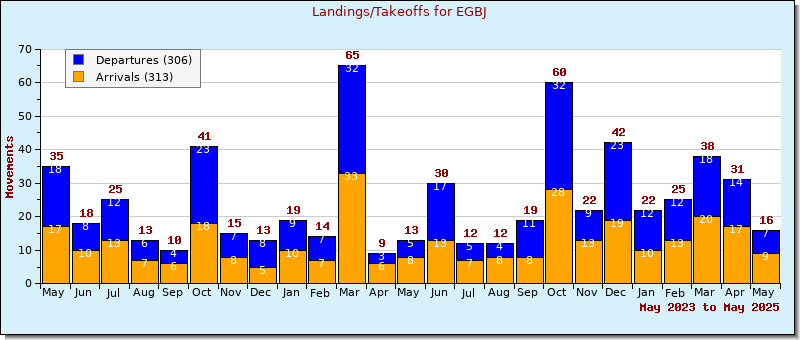 This chart show the Club's flying activity at Gloster over the last two years, as reported by our members using our PIREP facility.
Gloster arrival and departure procedures can be found on this page. Airfield charts and information are also available from the NATS/AIS website.
Please read and comply with airfield noise abatement procedures.
Airfield Data
ICAO : EGBJ
Elevation : 101 ft
Runways : 09/27 1419m x 37m; 04/22 988m x 34m; 18/36 800m x 18m
Grass Runway : 04/22 304m x 19m, tower side of hard runways
Radio : ATIS = 127.475, TWR = 122.900, APP = 128.550
Nav Aids : NDB = GST 331, DME = GOS 115.55
VRPs : Refer to the Airfield Procedures document.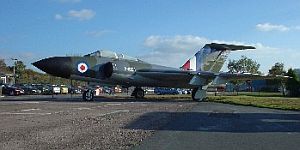 Local Attractions
Home of the Gloster Aircraft Company, the airport had an important role during World War II. A superb example of the Gloster Javelin (picture left) guards the entrance today. The airport's rich heritage is being preserved by volunteers at the Jet Age Museum
The Cotswolds rise steeply to the east, with some excellent views, and very picturesque villages.
The river Severn flows through Gloucester, providing a useful landmark for aerial navigation.
The Gloucester - Sharpness canal bypasses the tidal section of the river.
Gloucester Docks hold several attractions, including a large antiques centre.
Gloucester Cathedral is over 900 years old.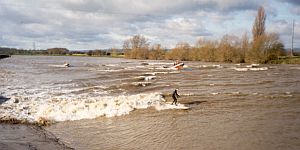 Local Events
The Gold Cup meeting takes place in mid-March each year at the Cheltenham Race Course. There is an adjoining heliport.
The Severn Bore attracts people from far and wide during Spring and Autumn high tides.
Gloucester, Worcester, and Hereford Cathedrals host the Three Choirs Festival, Europe's longest established music festival.
Cheltenham is the birthplace of Gustav Holst (He of The Planets Suite) and the town hosts a music festival every July.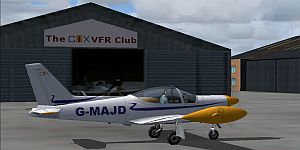 Scenery Additions
FSX and P3D: UK2000 Airports by Gary Summons, also available as British Airports from Just Flight.
Gary has provided a modified texture for the Staverton Flying Club hangar, which we adopted as a base for our club.

FSX: Freeware scenery for FSX by Terry Shields is available from AVSIM, search for "egbj_for_fsx.zip".
For X-Plane, there is a very good freeware scenery by highflyer525 dated June 2019 at X-plane.org, and the default has been modelled by Anthony_d and approved May 2017