Leeds-Bradford Airport was opened in 1931 as Yeadon Aerodrome. It was renamed Leeds-Bradford Airport in 1978, although it is still often referred to as Yeadon Airport by locals. The airport serves commercial passenger and freight services as well as private flying and training. The airport operates to many domestic and European destinations, and is the 15th busiest in the UK in terms of passenger numbers. It is also the highest in England at an elevation of 681 ft (208 m). It is a base for Eastern Airways, Jet2.com and Ryanair.
General Aviation facilities are mainly operated by Multiflight, a flight training and aircraft engineering organisation. They provide helicopter and fixed wing charter flights as well as aircraft sales and management. General aviation operations are confined to the south-side of the airport, in order to maintain separation from commercial traffic utilising the main terminal. Club members are made most welcome at the virtual Multiflight pilot facilities.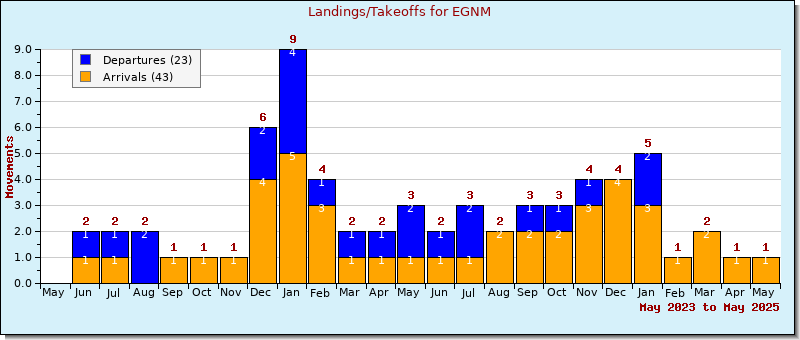 This chart show the Club's flying activity at Leeds-Bradford over the last two years, as reported by our members using our PIREP facility.
Airfield charts and information are available from the NATS/AIS website.
Airfield Data
ICAO : EGNM
Elevation : 662 ft
Located : 6nm North-west of Leeds City.
Runways : 14/32 2250m x 46m
Radio : ATIS=118.030, TWR=120.050, APP/RAD=134.580
Nav Aids : ILS/DME: I-LBF/I-LF 110.90
VRPs : Dewsbury, Eccup Reservoir, Harrogate, Keighley
See also the Club's Aerodrome Data Sheet for Leeds-Bradford EGNM.