Ronaldsway, or Isle of Man Airport, is the main civilian airport on the Isle of Man. It is located in the south of the island at Ronaldsway near Castletown, 6 nautical miles (11 km; 6.9 mi) southwest of Douglas, the island's capital. Along with the Isle of Man Sea Terminal, it is one of the two main gateways to the island. The airport has scheduled services to the United Kingdom and the Republic of Ireland as well as seasonal routes to mainland Europe.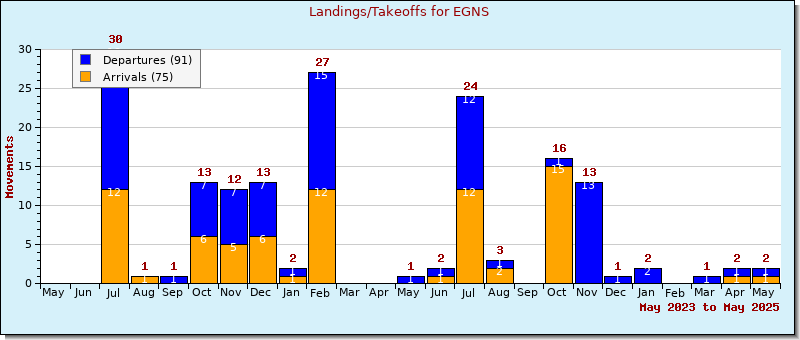 This chart show the Club's flying activity at Ronaldsway over the last two years, as reported by our members using our PIREP facility.
Airfield charts and information are available from the NATS/AIS website and/or from the Club's Ronaldsway Datasheet.
Airfield Data
ICAO : EGNS
Elevation : 52 ft
Located : 6nm SW of Douglas, Isle of Man (IOM).
Runways : 03/21 1255m x 45m; 08/26 1837m x 45m; 17/35 (May exist in FSX, but is now taxiway Foxtrot)
Radio : Ronaldsway Tower 118.900 (FSX - 119.00 real world); Approach (Radar)120.850/125.300 (135.90 real world); Approach 118.200; ATIS 123.875
Nav Aids : NDB RWY 359.00KHz; VOR IOM 112.200; ILS I-IRH 08 111.900; ILS I-IRY 26 111.900
VRPs : Laxey IOM Radial 054° 16nm: Peel IOM Radial 017° 10nm
Website : Isle of Man Airport. Isle of Man Airport - Wikipedia.